Gosztonyi István
Go hard, or go home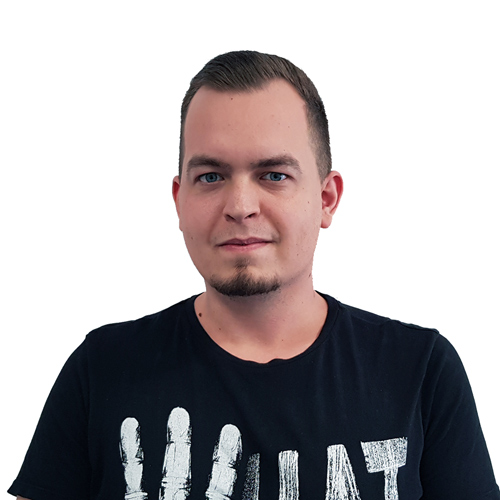 Gosztonyi István
Web developer
In love with Laravel, ES6 and SASS, I'm trying to build a beautiful digital world.
I have been working in web technology since 2012. During my first years as a student of University of Debrecen, I started taking small web projects as a freelancer, and working for Hungarian and foreign web-agencies, doing mostly front-end jobs.
Years passed, and after my graduation I started to work in full-time for a company in Debrecen for two years. During these years I worked as an outsource developer for a web agency located in Exeter, England.
After tens of projects, I had realized that I needed something else, something more. Something like corporate level of organization with the beauty of a growing new business. Something where I do not have to reinvent the wheel and where I can work with really smart people, leaded by a competent leader.
Around in the middle of 2017, I found a company in Debrecen, called CodeLinks. My first impression was way better than I had expected and after three weeks of intensive and paid training I started my first project.
This project was an information system for a company called Ecolor, housed in Romania. The technology I had to use was covered by what I have acquired in the training. After two months of development, my system went to production, helping people's efficiency of work in the furniture factory.
I felt really happy and as my skills have been becoming more advanced, I had the opportunity to start another big project for another company called Picstars. This company is one of our clients, a successful startup, located in Switzerland. This project was about to create a one-page application and after finishing the basics of this app and proving my skills in all aspect of web development, I became a permanent member of the back-end development team too.
Right now, I do my best to improve this project and develop new functionalities, keeping in mind the importance of user experience. Fortunately, I found the right team and awesome people to work together with. I like that my opinion/suggestion means something and everything is way more important than the brainless coding.
In my free time, I like online gaming with my fiancée, friends and co-workers (playing PUBG and other addictive games) and when it comes to offline fun, I'm familiar with typical pub-games, like pool, bowling, darts or the consumption of Jägermaister. :)
How to reach us?
Office: 4029 Debrecen, Bercsényi Miklós street 91.
Phone: +36 20 368 1824
Email: info [at] codelinks.hu